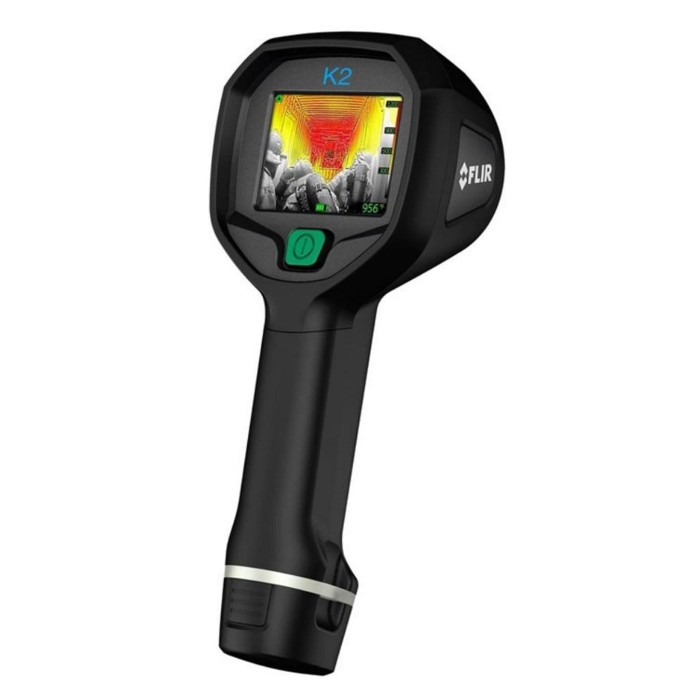 45.000.000
GARANSI RESMI FLIR 1th. We are an authorized distributor
JANGAN TERGIUR HARGA MURAH, PERBEDAAN HARGA TSB ADALAH ASURANSI & KETENANGAN ANDA DENGAN JAMINAN GARANSI YANG JELAS
Kami ada toko fisik, apabila ada kerusakan, silakan kirim ke alamat toko
Garansi yg di cover adalah kerusakan akibat kesalahan pabrik dan bukan akibat dari kesalahan penggunaan
OVERVIEW:
K2, Extremely afforda
ble thermal imaging camera for firefighters
The FLIR K2 is a rugged, reliable, and extremely economical thermal imaging camera that is specially designed for firefighting applications and severe conditions. Producing thermal images at 160 x 120 pixel resolution displayed on a bright 3" screen, the K2 helps firefighters find their way through thick smoke, assess situations with confidence, and expedite decisions.
FEATURES:
* A new level of affordability
* Compact and easy to use
* Robust & reliable
* Multiple image modes
* Multi-spectral dynamic imaging (MSX)
* Multiple firefighting applications
* Temperature Range: –20°C to +150°C; 0°C to +500°C
* IR resolution: 160 × 120 pixels
* Image frequency: 9Hz
* Field of view (FOV) / focus: 47° × 31.5°
hub
082124100046
tatang survey
WHAT'S IN THE BOX:
* FLIR K2 Infrared Camera
* Battery (2 ea.)
* Battery charger
* Lanyard strap
* Power supply
* Printed documentation
* USB cable
* User documentation CD-ROM
Berdagang alat- alat Kelautan, Alat Selam, Perahu Karet,Alat Keselamatan,
GPS Garmin, GPS Magellan, Alat Survey, Alat Ukur dan Aksesoris Alat Ukur.
Current Meter.Anemometer ,Anemometer Wireless,Weather station
Untuk keterangan, nego harga dan informasi produk lainnya, hubungi :
Alamat : Jl .H.Kelik No.20 RT.03 / RW.08 Kelapa Dua Kebon Jeruk Jakarta Barat
Email : tatangms409@gmail.com
WhatsApp :082124100046
Related product you might see: